Engineered for serious content creators looking for easy-to-use, broadcast-quality wireless audio, the Rode Wireless PRO provides a powerful feature set that ensures reliable performance while keeping your on-set workflow moving quickly and efficiently.
The system allows you to record two on-camera personalities at the same time to your camera, smartphone, or computer and provides two clip-on transmitters with built-in microphones, 32-bit float back-up recording, timecode support, and two lavalier mics, along with a dual-channel receiver and a host of accessories to seamlessly integrate with your camera, laptop, or mobile device.
Each of the compact transmitters clips quickly and easily to talent and features a built-in microphone with a forgiving omnidirectional pickup pattern that makes it easy to place on talent and get great sound.
For a more discreet look, two lavalier mics are included; these plug securely into the locking 3.5mm jacks on the transmitters—which can be clipped to belts or hidden in pockets.
Intelligent GainAssist technology automatically sets input levels for you, saving you time and worry on set.
Each transmitter features 32GB of internal storage, allowing you to record up to 40 hours of uncompressed back-up recordings while simultaneously transmitting to the receiver.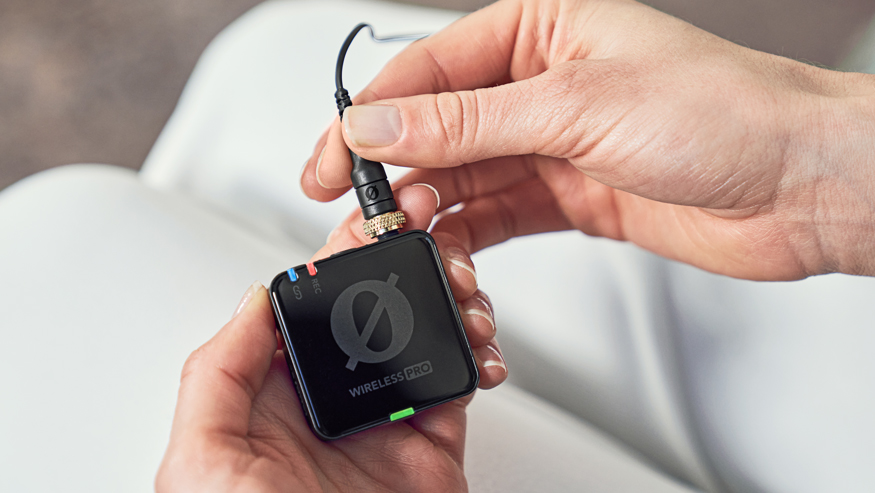 The transmitters feature 32-bit float recording to maximize the dynamic range, prevent digital clipping, and ensure noise-free normalizing, even on very quiet recordings.
Advanced timecode capabilities offer quick-and-easy audio/video sync in postproduction.
A two-step high-pass filter can be set to 75 or 100 Hz to reduce unwanted low frequencies for clearer speech
The lavaliers feature foam windscreens, and furry windscreens are provided for the lavs and transmitter mics for outdoor shooting.
Whats in the Box:
RODE Wireless PRO 2-Person Clip-On Wireless Microphone System/Recorder with Lavaliers (2.4 GHz)

Dual-Channel Wireless Receiver

2 x Clip-On Transmitter

USB-C to USB-C Superspeed Cable

3 x Furry Windshield

Charging Case PRO

Accessory Case

Lens Cloth
Read more